MARCH, 22. WORLD WATER DAY 2018
Coinciding with World Water Day, held on March 22, and in order to raise awareness among the population about the importance of maintaining adequate hydration, CIEAH organized a scientific session on "Hydration and Health in Europe XXI century "at the Royal European Academy of Doctors of Barcelona. The event was moderated by Prof. Dr. Maria dels Angels Calvo Torras, President of the Health Sciences Section of the Royal Academy of European Doctors and attended by Prof. Dr. Lluís Serra Majem, Director of CIEAH and Professor of Preventive Medicine and Public Health at the University of Las Palmas de Gran Canaria (ULPGC), who explained the importance of the relationship between hydration and health, highlighting the current challenges of water management in all sectors. On the other hand, Prof. Dr. Javier Aranceta Bartrina, Director for Latin America CIEAH, presented the hydration guidelines in the national and international dietary guidelines. The meeting was also attended by Dr. Rafael Urrialde Andrés, Director of Nutrition and Health Coca Cola Iberia, who addressed the vision of the industry with his presentation on "Water and other ingredients in the hydration process." Closing the session we were able to listen to Don Faustino Muñoz Soria, Sommelier and Director of Colmado Quilez, with his presentation "The water in the kitchen and in the catering services".
Experts Meeting on Sweeteners. Ibero-American Consensus
The CIEAH participated in the Meeting on Sweeteners: safety, nutritional aspects and benefits in food and beverages. Ibero-American Consensus. The event was held in Lisbon on 3 and 4 July 2017.
6th EHI Hydration Network Meeting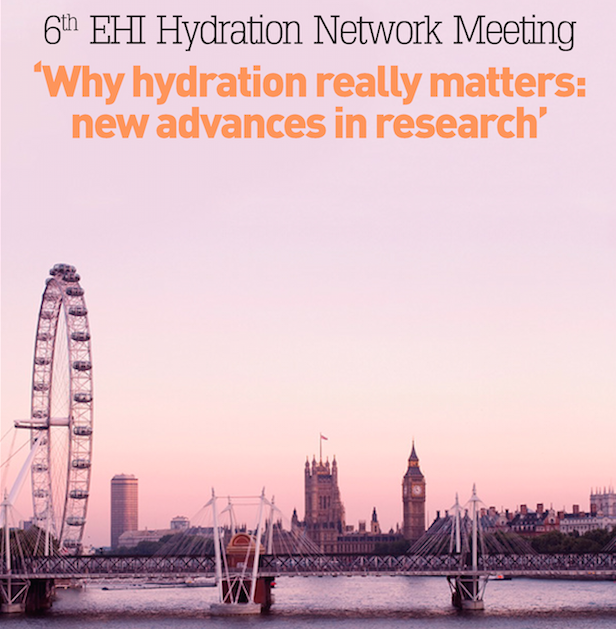 The EHI just held its 2015 Hydration Network Meeting at the Royal Society of Medicine in London.
The theme of this year's meeting was "Why hydration really matters: new advances in research". The meeting showcased some of the exciting new studies that the EHI has been funding over the past couple of years.
The meeting also unveiled a new online hydration course that the EHI and its partners are developing. The course aims to create better awareness and understanding of the importance of adequate hydration, its impact on health and the best means to achieve it. It will be launched later this year so look out for more details soon.
5th Hydration Network Meeting
The EHI's 5th annual Hydration Network Meeting took place in Budapest on 16th September 2014.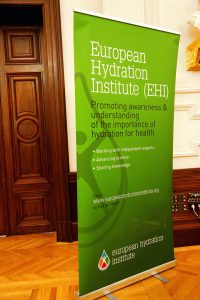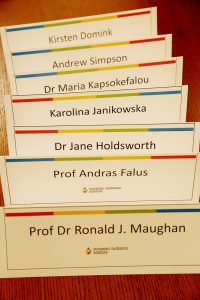 Human Hydration, Health and Performance Conference 2014
Between 6th and 8th April, the EHI hosted its 2014 Human Hydration, Health and Performance Conference in Castle Combe, UK. The event brought together 17 invited experts from seven countries to discuss and debate the body of evidence regarding the importance of hydration for our health and well being.
The supplement produced from the conference can be accessed by clicking this link.
Below you will find video recordings of the conference sessions.
4th Hydration Network Meeting
Please find below videos from the 4th Hydration Network Meeting, which took place in Barcelona in June 2013.
Featured here are 6 in-depth expert interviews from the 4th Hydration Network Meeting which took place in Barcelona in 2013.
3rd Hydration Network Meeting
The EHI's third Hydration Network Meeting was held on September 13th in Verona (Italy). The meeting was hosted by Prof. Claudio Maffeis, paediatrician and gastroenterologist from the University of Verona, and member of the Scientific Advisory Board of the EHI. This annual meeting organized by the EHI, brought together experts in hydration from across Europe, with the aim of encouraging networking and discussion about this important topic.
Approximately 50 invited researchers and healthcare professionals, with different backgrounds and professional interests, attended the meeting, resulting in a very productive exchange of ideas, opinions and experiences.
The meeting was opened by Prof. Ronald Maughan, from the University of Loughborough (UK), and Chair of the Scientific Advisory Board of the EHI, who stressed the importance of such discussion forums to foster debate and to exchange key learning in hydration science and education. Three keynote presentations followed, given by Prof. Simon Thornton – UHP, Nancy (France), Prof. Giovanni Montini – University of Bologna (Italy), and Dr. Hans Braun – German Sport University, Cologne (Germany). Two major EHI funded research projects were presented by Prof. Ronald Maughan and Prof. Dileep Lobo, their respective scientific leaders, and the research approach and aims were discussed with the audience."
2nd Hydration Network Meeting
Please find below the presentations given at the 2nd Hydration Network Meeting held in Madrid in October 2011.
Hear more about hydration from our experts!
1st EHI Hydration Networking Meeting
On 9th June 2011 the EHI held its first "Hydration networking meeting" at the Royal Society of Medicine in London which brought together scientists and other individuals interested in human hydration, health and performance from across Europe.
During the session, research funded by the EHI was presented and recipients of 2011 EHI student grants awards outlined their research approach.
Hydration & Health Conference
Institute of Child Health. London, UK. Thursday 11 November 2010
Water is essential for life and maintaining optimum levels of hydration for health is important for all age groups. However there are lots of mixed messages about how much, and what to drink, which can be confusing for consumers.
Is it true that tea and coffee do not count towards my fluid intake?
What is the best way to stay hydrated during exercise?
How much fluid do children and older people need?
The answers to these questions and more were discussed at the British Nutrition Foundation conference on hydration and health in central London on 11 November 2010.
This one-day conference included presentations from expert speakers, as well as an opportunity to hear invited original communications from PhD students and academic researchers presenting the latest research on hydration and health.
Haga clic aquí para ver las presentaciones
&nbsp
Hydration is essential for life Symposium
On 24th September 2010, within the framework of the II World Congress of Public Health Nutrition and the I Latin-American Congress of Community Nutrition held in Porto, Portugal, the European Hydration Institute (EHI) participated its first international symposium on Hydration: "Hydration is essential for life", a Lunch Forum organized together with the Beverage Institute for Health and Wellness, Instituto de Hidratação e Saúde, and International Life Sciences Institute.d).
Patricia Padrão (PT)
Assistant Professor in Nutrition, Faculty of Nutrition and Food Sciences, Porto University
Jane Holdsworth (GB)
Director of the European Hydration Institute.
Prof. Ron Maughan (GB)
Professor at Loughborough University, UK.
Chairman of the Science Advisory Board of the European Hydration Institute.