I Workshop Internacional: Estudios Avanzados en Hidratación
19 – 20 de enero de 2017
Las Palmas de Gran Canaria, España – Salón de Actos – Facultad de Ciencias de la Salud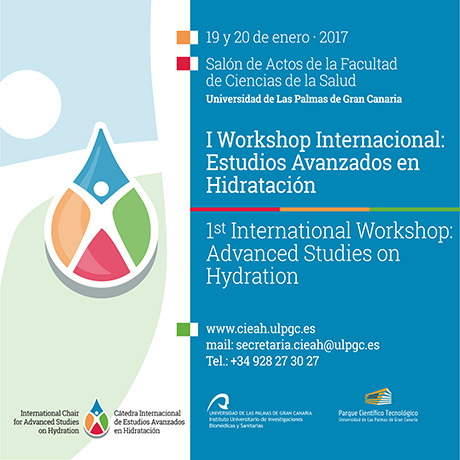 Ponencias
Presentación de la Cátedra Internacional de Estudios Avancados en Hidratación
Presentation of the International Chair for Advanced Studies on Hydration
Ponente: Dr. Lluís Serra Majem
Director of the ICASH. University of Las Palmas de Gran Canaria, Spain
   8,72MB
Osmolaridad como indicador del estado de hidratación: fortalezas y debilidades
Osmolarity as indicator of hydration status: strengths and weaknesses
Ponente: Dr. Tommaso Bochicchio Riccardelli
Professor of Nephrology, La Salle University, Mexico, D. F. Director of Nephrology, Mexican Transplant Institute, Cuernavaca, Morelos. Mexico
   38,2MB
Consumo de agua e índices de hidratación en población adulta europea
Water intake and hydration indices in healthy European adults
Ponente: Dr. Maria Kapsokefalou
Unit of Human Nutrition, Department of Food Science and Human Nutrition, Agricultural University of Athens, Greece.
   1,18MB
Hábitos de consumo de bebidas en la población española. Validez y fiabilidad de los cuestionarios para evaluarla ingesta de bebidas.
Beverage consumption habits amongst the Spanish population. Validity and Repeatability of the questionnaires to assess beverage intake
Ponente: Dr. Mariela Nissensohn
Research Institute of Biomedical and Health Sciences, University of Las Palmas de Gran Canaria, Spain.
   8,5MB
Impacto de la actividad física y el sedentarismo sobre el grado de hidratación en adultos mayores
Impact of physical activity and sedentarism on hydration status in older adults
Ponente: Dr. Marcela González de Gross
Faculty of Physical Activity and Sport Sciences (INEF), Polytechnic University of Madrid, Madrid, Spain.
   13,6MB
Implicaciones de la hidratación antes, durante y después de la competición deportiva: el caso del fútbol
Implications of hydration before, during and after sports competition: the case of soccer
Ponente: Dr. Sergio Cunha Velho
Department of Nutrition, Pediatric Hospital of Coimbra, Portugal.
   12,8MB
Relación entre el estado de hidratación y el rendimiento escolar
Relationship between hydration status and mental performance in schoolchildren
Ponente: Dr. Rosa María Ortega – Dr. Luis Peña Quintana
Department of Nutrition, Complutense University of Madrid, Madrid, Spain.
   8,75MB
Hidratación y estado oxidativo en población infantil
Hydration and oxidative status in children
Ponente: Dr. María José Soto Méndez
Scientific Coordinator. Iberoamerican Nutrition Foundation. Granada, Spain.
   8,32MB
Retos de la ciencia de la hidratación en América Latina
Challenges of the hydration science in Latin America
Ponente: Dr. Javier Aranceta Bartrina
University of Navarra, Pamplona, Spain.
   10,5MB
Tratamiento y calidad del agua potable
Home drinking water: quality and treatment
Ponente: Dr. José Sadhwani Alonso
Director of Sustainability and Risk Prevention. University of Las Palmas de Gran Canaria, Spain.
   5,84MB
Mejorando la hidratación a nivel global: de las recomendaciones al consumidor
Improving global hydration: from recommendations to consumers
Ponente: Dr. Gregorio Varela Moreiras
Department of Pharmaceutical and Health Sciences, CEU San Pablo University. Spanish Nutrition Foundation (FEN), Madrid, Spain.
   27,7MB
Mitos y realidades sobre consumo de agua en las redes sociales
Water intake and social networks: facts and myths.
Ponente: Dr. Adriana Ortiz Andrellucchi
Research Institute of Biomedical and Health Sciences, University of Las Palmas de Gran Canaria, Spain.
   5,39MB
Los retos del agua ante el cambio climático
Climate change and water challenges
Ponente: Ms. María José Alonso Moya
Spanish Office for Climate Change. Ministry of Agriculture and Fisheries, Food and Environment, Madrid, Spain.
   13,6MB